| | | |
| --- | --- | --- |
| | rtImageFX v1.0.3d | |


rtImageFX Plug-In Libraryis a specialised graphics library providing digital imaging, cool creative filter effects, basic drawing, painting and other graphical functions that you can easily add into your NeoBook projects.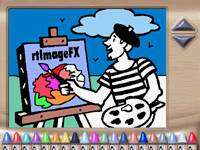 With this library, you can now create fun, cool, and creative projects like multimedia photo-albums, photo cards, coloring books, digital camera-related projects, Photo/Image CDs, Maps/Atlas Viewers, image enhancement software and many more... with professional quality-like features!

"To me, rtImageFX has simple answers for almost everything that I have wanted to do in terms of handling and filtering graphic content. Displaying images in a rectangle that you can place and control (zoom, pan, rotate, sharpen, etc) is a nice advance and adds simplicity to development. Or, having a thumbnail kit adds some real possibilities to menuing. After working with rtIFX for a while I have found that it is probably something I will use in almost every application that I develop."
- Pete, a satisfied registered user.

"In my opinion, rtImageFX is one of the most comprehensive scriptable graphics utilities (at least within a reasonable price range) ; in fact it is five separate utilities in one (TWAIN scanner, A FileFormat-to-ManyFileFormats, easy PhotoAlbum, ScreenCapture and a DrawOnCanvas (shapes, images, text, patterns) facility."

DEMO projects with commented scripts included in package.
Features:
Image manipulation/enhancement functions.
Filter effects for global image editing functions.
Direct TWAIN-compatible scanner device support
Smooth image handling/panning
Basic drawing/painting tools
Image conversion functions.
Thumbnails
Additional visual components for customized GUI enhancement.
... and lots more!