I decided it might be worth making a post in this almost dead section of the forum. I've seen comments on the forum recently about how at best you can make 'beer money' with software created with Neobook.
In reality you can make a lot of money with Neobook but it seems whenever this topic comes up (having read through the other posts in this section) its almost a taboo subject.
So I am going to take a chance and post this and hope its taken in the spirit it is meant in. I am not posting this to brag but am posting this in the hope that it inspires others and demonstrates that you don't have to be an amazing programmer (I'm not) to make a good income from Neobook projects.
This is a screen shot from one of the channels I sell software through and is from the past six months approx (April 14th - Sept 19th 2011):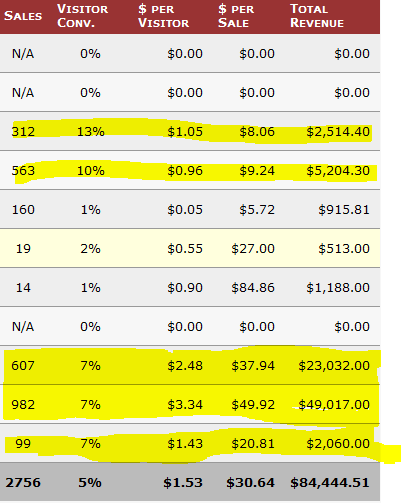 The products highlighted in yellow are all written with Neobook (I sell other things like PHP, wordpress plugins,etc).
The figures are all gross so take off a few percent for merchant fees/paypal fees/etc and a few hundred dollars for promotion - its still a good income.
The most profitable product on that list took me a week to write, test, debug, etc. The ones that did $2000 - $5000 are all simple projects, most done start to finish in a couple of days.
I could also post screen shots from other sales channels like clickbank but the point here is not to say "look at how well I am doing" but rather to inspire fellow Neobookers to run with their ideas and believe in them.
People pay for results and for a finished product. Do not get hung up about stuff that only programmers think about. No one cares if your finished code is fully optimised and crunched down, no one really cares if the product you ship takes 500k of disk space or 20mb - so long as it does what they want it to do. They also don't care what language its written in, etc.
As a programmer I am not the best by a long way, I know Neobook, Basic and PHP (and I probably only know 10% of what PHP can actually do). But no one else knows that! I do not bill myself as a programmer (unless it suits me to do so from a marketing point of view), instead I see myself as a solutions provider.
When you stop "programming" and start "providing solutions" theres a good chance your earnings will rocket. Its all mindset.
Now go make some big bucks with this amazing tool that is "Neobook"
Andy